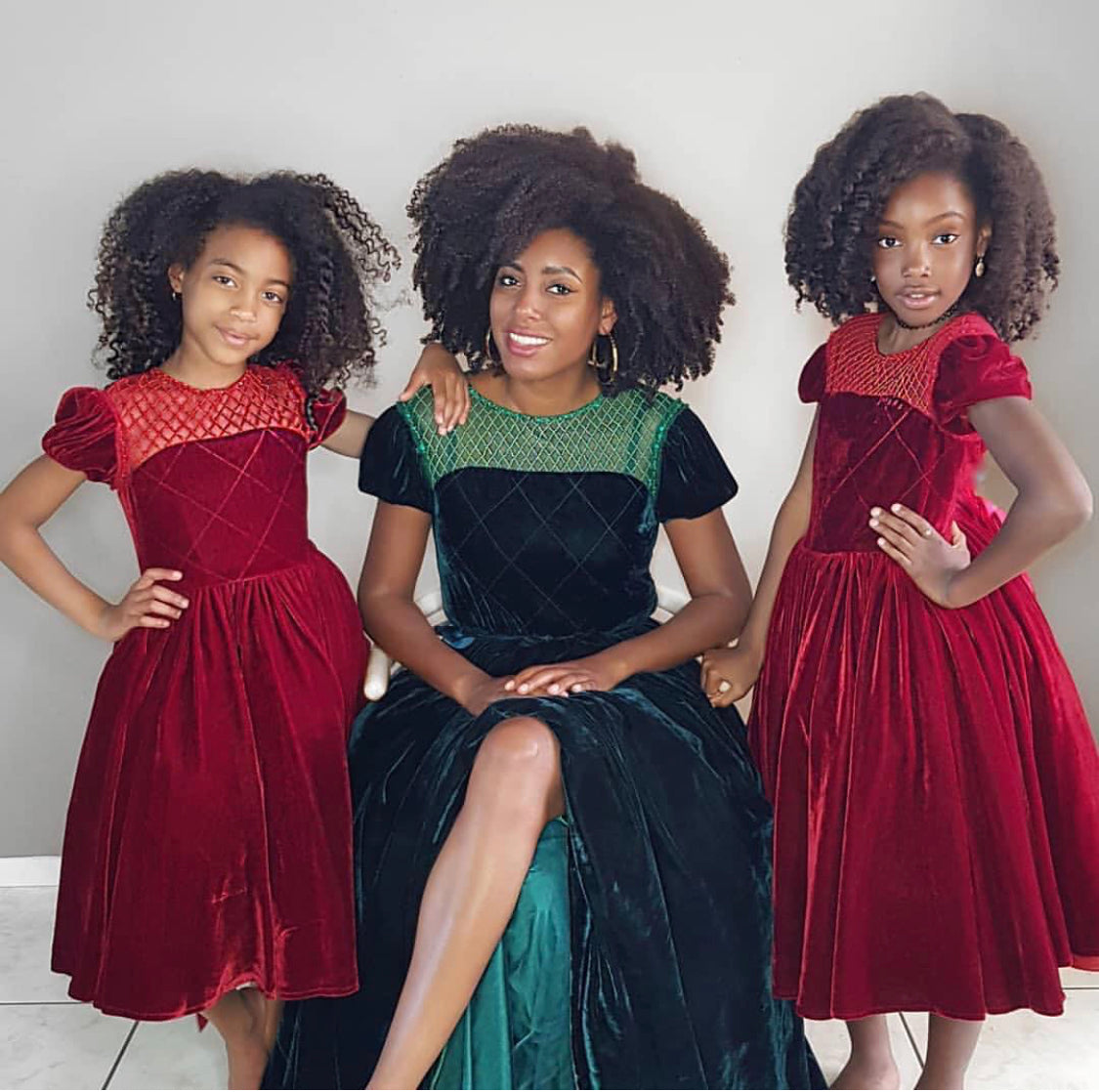 Tips and tricks on choosing the best holiday girls dress
With the temperatures cooling down and as we get ready for a new season, many parents might start to think about wrapping up the year. An important event that takes place around this time of the year is family photoshoots.
Many families like to send personalized holiday postcards to friends and families. While some might choose to take yearly or seasonal photoshoots for the family portrait.
Whatever your inspiration might be for your upcoming photo shoot, we at Monbebe Couture want to make sure that you have a memorable family portrait that will be remembered for years or decades later.
Timeline tips for a family photoshoot
It's important to coordinate the photoshoot well ahead of time so that you can minimize the stress that often comes with the holidays.
If you'll be taking photos for holiday cards to send to friends and families, we recommend getting your photos taken at least two months ahead.
Since your outfit is the most important part of the photoshoot, we recommend, coordinating your outfit at least a month prior to the day of the photoshoot.
If you're wondering how to choose the best outfit for your daughter and what to look out for when choosing the best dress, we'd like to offer some styling tips in this article.
How to choose the perfect outfit
When it comes to family photo shoots, there are many details that go into making the photo shoot a remarkable one. From choosing the photographer, location, makeup artist, stylist, outfits and possibly transportation, we have to admit that a photoshoot isn't as easy as it seems. That's why we're here to help reduce some of the planning stages of this memorable event.
Choosing the best colors
If you'll be taking a Christmas photoshoot for Christmas holiday cards, we recommend choosing holiday colors such as red, green and gold.
At Monbebe Couture, we can customize any dress of your choice with a color that will match your color scheme. If you'd like to order a pre-made dress with minimal customization, we recommend dresses such as the Amelia dress, Siam dress or Raina dress.
Choosing the fabric
When coordinating a family photoshoot, it's important to choose a coordinating fabric that will match every member's outfit. This way, it will be easier to find the best outfit for everyone, even if you'll be ordering each person's outfit from different vendors.
You also want to make sure that you choose easy to find fabric choices so that you don't have to do so much work to get the best outfit for your daughter's outfit.
At Monbebe Couture, we carry the following fabric: chiffon, lace, organza, satin, sequin, taffeta, and tulle.
Should you need assistance in choosing the best fabric for your daughter's dress, please don't hesitate to contact us.
Choosing a style
Typically, a girl's dress will match the mother's dress and her sister's outfits, if she has any. If you want your daughter's dress to match your outfit, we recommend sending us a picture of your dress, so that we can design something similar. We can also customize the dresses in our store to match the style of your dress.
Choosing the best dress for the location
If you'll be taking outdoor photos, you want to make sure that your daughter is well dressed for the weather. To keep her legs warm, we recommend choosing long dresses such as the Amelia party dress... For her upper body, we recommend furry coats or scarves that will keep her warm, without covering the details of the dress.
Choosing the best accessories
The accessories you choose for your holiday photo shoot will often be dependent on the theme of the photoshoot. For example, if the theme is glitz and glam, your daughter might need to wear jewelry such as a tiara, necklace, earrings or a sequin bow.
If you prefer an elegant dress that doesn't require a lot of accessories, we recommend dresses such as the Siam dress, Rhinestone dress, or the Raina dress.
Other things to keep in mind
When choosing the perfect dress for your daughter's holiday photoshoot, you should take her age and temperament level into consideration. If your daughter is older, you can choose a heavier dress such as the Siam dress or Amelia dress. But if she's very young, we recommend the Sparkle dress. And if this is your child's first-holiday photo shoot, we recommend choosing a one-of-a-kind and memorable dress like the Siam dress.
In conclusion
To ensure that the photo session goes smoothly and as planned, we recommend feeding her before the session. A well-fed child will also make the day go faster. If you need more guidance choosing a beautiful dress for your daughter, please get in touch with us and we'll work with you to choose the best dress.
What are your family traditions for holiday shoots? We're curious to see some of your past family portraits! You are invited to share them with us on Instagram, just tag us @monbebecouture.
Florence A.
Lead Designer